By Robyn Lebron
URI North America is thrilled to welcome one of our newest Cooperation Circles. We know that we are stronger together!
SAFE ALLIANCE OF INTERFAITH LEADERS (S.A.I.L.), Columbus, OH
Contact Person: Greg Davis, Secretary, sail@uri.org
Purpose: The Safe Alliance of Interfaith Leaders is formed solely for charitable, religious, and educational purposes to foster peace, tolerance, and understanding among different faiths through constructive dialog, education, and community activities and service. The Safe Alliance of Interfaith Leaders will fulfill its purpose by creating an interfaith community among faith-based congregations, organizations, and individuals in the Northwest Columbus area who share an interest in working together toward mutual understanding and action for the well-being of all people, and to promote respect, friendship, and trust within our community.
Website: safeallianceofinterfaithleaders.org
"We value opportunities for people to come together, face-to-face, to get to know people from different faith traditions and backgrounds. We value opportunities to share with the public the fact that people of many different faith traditions and backgrounds can share common goals and be friends."
__
As Barb Anderson, president of Safe Alliance of Interfaith Leaders (S.A.I.L.), spoke about the organization', she had a sense of pride in her voice.
"Two Christian ministers went to Israel/Palestine on an archeological visit and were struck by the similarities of all three faiths that had roots there in Jerusalem and the Holy Land, and how common our faiths were, and began thinking about how they could build bridges when they came back here. These two ministers formed S.A.I.L. and asked a man from the closest Islamic Center if he would be interested in joining as well. They did some preliminary work and then launched it to the broader community."
Today, the Jewish, United Church of Christ, Episcopal, Methodist, Catholic, Islamic communities are involved.
"I believe that you really need to meet people and sit at a table with them," Anderson said. "It's been a dream of mine to try to do that. But we've got to get [people from faith communities] to the table. If you get ministers involved, they'll get their congregations involved."
In a serious tone Greg Davis, secretary of S.A.I.L. added that all of this really started to take off at a moment when the U.S. desperately needed people to come together: it was 2002, in the midst of the post-9/11 Islamophobia.
With the desire to do more and touch more people's lives, S.A.I.L. reached out to the United Religions Initiative in 2017 to join as a Cooperation Circle (CC) member. Anderson was thrilled at the prospect, "Being part of a bigger group doing like-minded things, there is value in that, [in] knowing that we are not alone — that there are other groups that are doing this work," she said.  "I look at URI as a resource for us to explore topics and questions we are asking. I see you and other CCs as a resource to us."
Both Davis and Anderson were confident that S.A.I.L. could help other CCs as well. They openly discussed their excitement to share what they have learned that has worked well. Davis also felt that they might have expertise in certain areas that would be useful to others,  "I envision us sharing resources that we have/can get easier than other members [can]. For example, the grant we gave for a CC in Uganda to hold an Interfaith March."
Davis explained that the primary focus of S.A.I.L. is to bring people together socially in non-threatening environments so they can meet and talk as human beings. In that way, they can learn about people in a genuine setting.
"There is so much misunderstanding right now…I am passionate about having some of our events be outward-facing and very public — making sure that people have different kinds of exposures to people of different faiths."
Anderson quickly added. "I am friends with a lot of people of different faiths. [But] even within those groups of my friends, whom I consider very reasonable people, there are so many misconceptions of people of other faiths because they have not met them. I see them being swayed by outside influences [such as the] media …. because they do not know people of other faiths."
Anderson reflected on a phrase she really resonated with from URI's Preamble, PurposeandPrinciples — "enduring, daily interfaith cooperation."
"The first way to achieve that purpose is to speak with someone and be in dialogue with them. You can't have cooperation with someone that you don't know anything about — dialogue comes first."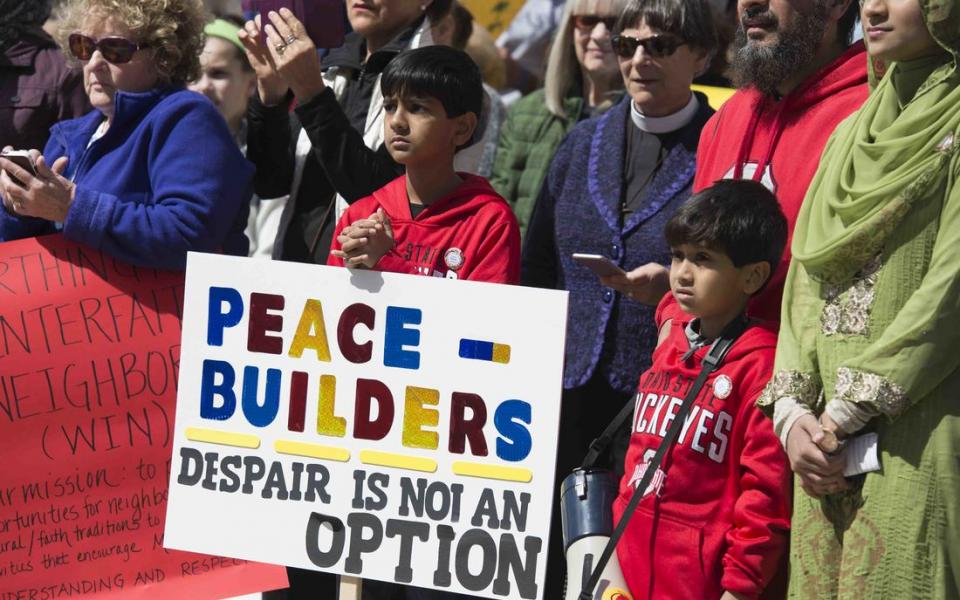 S.A.I.L. plans on accomplishing that in their community and have come a long way. Anderson and Davis' enthusiasm lifted to a whole new level as they discussed the activities they had attended.
"We had a Community Family Fun Day. The idea was to have a very public display of togetherness and fellowship across faiths," Davis reminisced. They had everything from fire trucks to booths for food pantries to a cornhole tournament.
"We made an event of it — deliberately apolitical. We just hung out … I had a lot of fun there and made friends — I went to dinner the other week at a friend's house that I met there."
Around Thanksgiving, the group has a Thanks and Giving Ceremony.
"It was really lovely. We had representatives from different faiths reading, giving perspectives of thanks," Davis said.
Anderson chimed in, "The Thanks and Giving Ceremony is my favorite event! My church used to do this as an ecumenical service and in the late 90s it dwindled out. When I got involved with S.A.I.L., I wanted to bring it back, and it's now an interfaith service. We've had it both at churches and community centers. It's music, readings, words of wisdom from faith traditions about giving thanks, and [we] collect donations for the local food pantry. In 2017, we had a Sikh representative there for the first time!"
They are already looking towards ways to involve more congregations, and perhaps the area fire department, police and medical personnel, in the future.
Davis is eagerly anticipating an upcoming event in April 2018, "I'm really passionate about The Interfaith March for Peace and Justice that will begin simultaneously from coast to coast on April 29th with the purpose of affirming religious liberty for all people, and equal justice for all people regardless of their race, religion or place of origin. It is non-partisan — it is a positive affirmation of positive principles that a lot of people can [and] should get behind."
We at URI totally agree and are also looking forward to the future with this great new Cooperation Circle on our team!
___
If you would like to know more about the work of the Safe Alliance of Interfaith Leaders and how you can get involved, contact Greg Davis at sail@uri.org . 
This piece was written by URI North America Storytelling Intern Robyn Lebron. You can read more of her work here.
Comments
comments